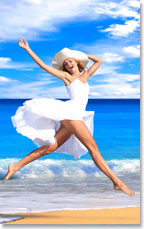 There are many nutrients that can affect mood, but B vitamins have a particularly positive influence. A number of B vitamins have been associated with homocysteine regulation in the treatment depression. Vitamin B-12 and other B vitamins play an important role in producing brain chemicals that directly affect mood and other brain functions. Low levels of B-12 and other B vitamins such as vitamin B-6 and folate have been linked to depression. The following represents some of the research into the effects of B vitamins and depression.
Vitamin B6, also known as pyridoxine, is required for the synthesis of the neurotransmitters serotonin and norepinephrine, and for myelin formation in the brain. People who are B6 deficient are more likely to be depressed than people who are not.  Vitamin B6 is best utilized in conjunction with other vitamins, particularly B12 and folic acid.
Clinical depression occurs nearly twice as often in women as in men, with prevalence rates for major depressive disorders at 6.4% in women compared with 3.2% for men.  This gender disparity begins in adolescence and is most pronounced in 25- to 45-year-old women who are married with children. The use of oral contraceptives increases the likelihood of a woman becoming depressed because they deplete the body of vitamin B6, necessary for the conversion of tryptophan into serotonin. One double-blind study learned that vitamin B6 deficient women with depression who were taking oral contraceptives felt significantly better with vitamin B6 supplementation.
Other research has indicated that vitamin B6 supplementation helps alleviate depression associated with premenstrual syndrome. A review of several controlled studies confirmed that vitamin B6 is more than twice as likely to reduce depressive symptoms of PMS than placebo.
Vitamin B9, more commonly known as folate or folic acid, can benefit people with depression.  Folic acid is linked to the production of serotonin and the degree of folic acid deficiency can be directly related to the degree of depression.99 For example, a review of 11 studies involving 15,315 participants concluded that there was a significant association between depression and low folic acid levels.  A follow-up study by the same team of researchers discovered that people with depression commonly have a gene that causes them to process folic acid less efficiently.  The identification of this gene provides an explanation as to why folic acid supplements help people with depression. Based on these findings, those suffering from depression should consider being screened for folic acid deficiency.
Folic acid can increase the effectiveness of drug therapy for depression. In one study, patients with manic depression reported an improvement in the effects of lithium when folic acid was added.  Another study determined that low folic acid levels were associated with a decreased treatment response to antidepressants in patients with major depression and subsequent folic acid supplementation increased the effectiveness of the drugs.
Vitamin B12, also known as cyanocobalamin, has been shown to have a favorable impact on depression. In a number of studies, vitamin B12 deficiency was related to mood disturbances that responded to subsequent B12 supplementation.
A study by the National Institute on Aging noted that participants with a vitamin B12 deficiency were twice as likely to suffer from severe depression.  Additionally, studies have shown that higher vitamin B12 levels are associated with a better outcome during recovery from depression.
The benefit of B12 for depression may be due to B12's ability to activate a substance called tetrahydrobiopterin (BH4), a compound which in turn helps activate "feel good" neurotransmitters like serotonin and dopamine. Folic acid and B12 work together and any supplementation program should include both of these nutrients.
Nicotinamide adenine dinucleotide (NADH) is the active coenzyme form of niacin, also known as vitamin B3. Research has proven that NADH has a positive impact on people suffering from depression.
In a study of 205 participants with depressive symptoms, 93% exhibited a beneficial clinical effect after taking NADH for 5 to 310 days.  Another study reported that NADH had an antidepressant-like effect that was effective in the treatment of major depression.
The antidepressant effect of NADH may be due to its oxidative properties which have been associated with beneficial effects on the central nervous system.
Inositol, a part of the vitamin B-complex family of vitamins, has a similar therapeutic profile to SSRIs in that it inhibits serotonin reuptake in the synaptic cleft.  Investigations have discovered that people with depression have lower levels of inositol.  In one study, depressed people who took inositol for four weeks had a significant improvement in their symptoms.  In a follow-up study of patients with depression, half of those who initially responded to inositol supplementation relapsed when it was discontinued.
Inositol occurs naturally as phytic acid, which is a metal chelator that suppresses damaging metal-catalyzed reactions, making it a natural antioxidant.  It's theorized that this oxidative action is part of why inositol is so effective in treating depression and other psychiatric disorders.
Some of the above B vitamins can be found in a B-complex, which usually contains several related substances, many of which have been beneficial in treating depression. The availability of B vitamins often depends on having adequate supplies of each.