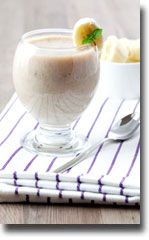 This banana bread smoothie recipe is quick and easy to make, full of great protein, and tastes like the delicious bread that inspired it. The grains, spices, and vanilla definitely combine to make this taste much more like actual banana bread, versus your typical plain banana smoothie. It's full of extra protein to fuel your day versus that annoying sugar/carb crash that often accompanies actual banana bread.

Number of servings: 1, 290 calories per serving.
Ingredients:
1 cup water
1 banana, frozen
1/3 cup cooked quinoa or buckwheat
1 tbsp raw walnuts
2 tsp cold-pressed flax oil
1 medjool date, pitted
flesh from 1 vanilla bean or 1/2 tsp alcohol-free pure vanilla extract
3/4 tsp ground cinnamon
pinch allspice
extra walnuts and ground cinnamon for topping
Instructions:
Combine everything into your blender and blend.
Add more water if needed to get things moving around in the blender.