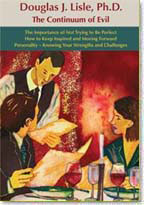 Douglas J. Lisle, is the presenter in this DVD. Lisle received his Ph.D. in Psychology from the University of Virginia. He is currently the psychologist for The McDougall Wellness Program.In this entertaining and eye-opening lecture, Lisle explains that your success doesn't require you to be perfect, but that knowing how to score your "misses" on a "continuum of evil" can make all the difference.
In this DVD, Lisle discusses the following:
The Importance of Not Trying to Be Perfect
How to Keep Inspired and Moving Forward
Personality – Knowing Your Strengths and Challenges
If you have ever worried that you might not be able to follow a healthy diet and lifestyle program, Lisle's lecture on The Continuum of Evil is a must-see for you.
In his second lecture, Dr. Lisle shares cutting-edge insights from modern personality theory that can help you learn valuable lessons about your own strengths – and weaknesses – in the pursuit of healthy living.
Dr. Lisle is the Director of Research for TrueNorth Health Center and has published numerous articles in the scientific literature. He is the co-author of The Pleasure Trap and is in private practice, conducting psychotherapy at the TrueNorth Health Center.
Director: John McDougall
Release Date: 2007