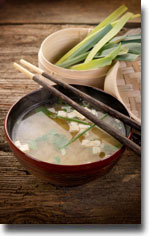 Miso soup is a traditional Japanese soup consisting of a stock called "dashi" into which softened miso paste is mixed. Many ingredients are added depending on regional and seasonal recipes, and personal preference. Here's how to make miso soup in just a few easy steps.
Number of servings: 2, 90 calories per serving.
Ingredients:
5 cups water
3 baby bok choy (about 9 ounces or 250g), trimmed and sliced
3 ounces mushrooms, sliced
6 ounces organic silken tofu (see substitutes below), cubed
1 green onion, diced
4 cloves garlic, minced
1 teaspoon Korean powdered pepper (or red pepper flakes to taste)
freshly-ground black pepper, to taste
1 tablespoon mellow white miso (add more to taste)
Directions:
Bring water to a boil in a medium saucepan.
Add all ingredients except miso, reduce heat, and cover. Cook until vegetables are tender, about 15 minutes.
Remove a few tablespoons of the broth and place it in a small bowl.
Add the miso and stir until well combined.
Remove the soup from the heat and stir in the miso.
Serve hot.