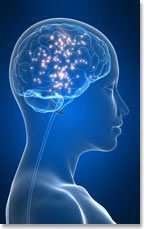 Nutritional therapy has its roots in orthomolecular medicine. Orthomolecular medicine is the practice of preventing and treating disease with optimal amounts of substances—usually nutrients—that are natural to the body. Orthomolecular psychiatry is a branch of orthomolecular medicine whose proponents believe that dietary supplements and other dietary restrictions can be effective in treating mental illness.
The origins of orthomolecular psychiatry can be traced back to as early as 1927, when Paul J. Reiter used a nutrient as a treatment for schizophrenia. Reiter discovered that 23 of his 50 schizophrenic patients improved after injections of manganese.
Although many scientists experimented with nutrients and psychiatry in the interim, the term "orthomolecular psychiatry" was popularized by Linus Pauling in a paper of the same name in 1968. Pauling, winner of two Nobel prizes, referred to the treatment of psychiatric illnesses with substances (such as vitamins, minerals, enzymes, trace elements, and co-enzymes) that are normally present in the body.
In orthomolecular psychiatry, high amounts of vitamins are sometimes used, not to correct a deficiency per se, but to create a more optimal biochemical environment. In addition, dietary manipulation, calorie restriction and fasting may be used.
According to Pauling, "Orthomolecular psychiatry is the achievement and preservation of good mental health by the provision of the optimum molecular environment for the mind, especially the optimum concentrations of substances normally present in the human body, such as the vitamins."
Other advocates at the onset of orthomolecular psychiatry included Abram Hoffer, Humphry Osmond and Carl Curt Pfeiffer, all of whom treated psychiatric disorders with nutrition extensively.
Orthomolecular psychiatry has been used to treat most every psychiatric disorder, including schizophrenia, depression, autism and ADHD. Beginning in the early 1950s, Hoffer and Osmond executed over two dozen studies using megadoses of vitamins to treat schizophrenics. Although their research was largely successful it was seen by allopathic doctors as more of a fluke than real science.
Mainstream medicine considered orthomolecular psychiatry to be a radical, unproven protocol and the early advocate's work was rejected in 1973 by a panel of the American Psychiatric Association (APA). However, Hoffer and Osmond's research—as well as the work of other orthomolecular proponents—has been verified in tens of thousands of studies over the past 50 years and used in the ongoing treatment of psychiatric and medical conditions. For example, at the annual meeting of the same American Psychiatric Association in 2004, the following research articles were presented and met with great enthusiasm:
Nutrition and Psychiatry: A Historical Perspective
Omega-3 Essential Acids and Psychiatric Disorders
SAMe, Folate, and B12: One-Carbon Metabolism and Depression
Psychiatric Applications of Chromium
Studies like these are now a normal occurrence at APA meetings and fill the most prestigious medical journals, attesting to the enduring scientific respect for nutrition as a treatment for psychiatric disorders.
While some psychiatrists still practice orthomolecular psychiatry, many naturopaths, nutritionists and other health practitioners treat mental health conditions with nutritional therapy, a variation of orthomolecular psychiatry. Like orthomolecular psychiatry, nutritional therapy attempts to treat medical and psychiatric disorders at the cellular level with nutrients.