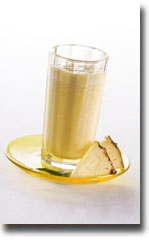 Pineapple is a sweet, nutritious fruit that can help you meet the recommended five or more servings of fruits and vegetables per day. Ripe pineapples should be yellow at the base, have no brown spots and should smell sweet at the stem end. They provide many vitamins and minerals; they are a good source of vitamin B6, vitamin C, folate, thiamin, manganese, potassium and dietary fiber.
Number of servings: 1, 275 calories per serving.
Ingredients:
3 cups pineapple chunks
1 peeled banana
1 cup strawberries
1 cup water
Instructions:
Combine everything into your blender and blend.
Add more water if needed to get things moving around in the blender.