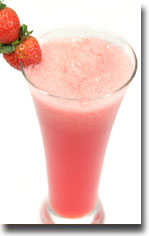 This is one of the best and most refreshing drinks Ive ever made. I blend the strawberries and sieve out the seeds first, then continued with the recipe. If you don't want the seeds you'll need to do this extra step because it's hard to strain all the ingredients through a sieve, especially with crushed ice. Then I put the strawberry mixture in the freezer for an hour or so so it was like a slushy.
Number of servings: 1, 265 calories per serving.
Ingredients:
2 cups Pellegrino
2 cups fresh strawberries
Juice from 1/2 lemon
3 ice cubes
Instructions:
Combine everything into your blender and blend.