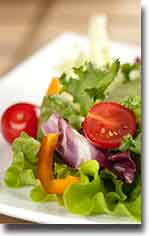 This strawberry vinaigrette changed the way I eat salads. It's easy, delicious, and low-calorie. I like it with a spinach, almond, and feta salad. The garden strawberry is a widely grown hybrid species of the genus Fragaria, collectively known as the strawberries. It is cultivated worldwide for its fruit.
Prep Time: 5 minutes
Ingredients
4 large strawberries
1 tablespoon red wine vinegar
1 teaspoon Stevia
pinch of freshly ground black pepper
Directions
Mix in food processor or pulse in high speed blender to retain texture if desired.