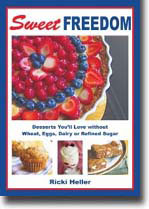 Sweet Freedom: Desserts You'll Love without Wheat, Eggs, Dairy or Refined Sugar proves that you can have your cake, and great health too! With over 100 original, innovative sweet treats using whole, natural, unprocessed ingredients and NO refined sugar, eggs, dairy or wheat, Sweet Freedom offers up foolproof recipes for muffins, scones, and other breakfast baking; cookies and bars; cakes and cupcakes; pies and tarts; puddings and other creamy desserts; and no-bake treats.
You'll find recipes for classics such as chocolate layer cake with chocolate "buttercream" frosting, chocolate chip cookies, coffeecakes, pecan pie, apple cake, oatbran banana muffins, sugar-free sugar cookies and shortbread, along with some more unusual treats that contain vegetables, avocado, or whole fruits for their health-promoting properties.
Many of the recipes are adapted from best-selling products from Heller's organic bakery, Bake It Healthy. All recipes are lactose free, casein free and cholesterol free, and about one third are also gluten free. The desserts are great for anyone with food sensitivities, lactose intolerance, or allergies to eggs or dairy–and anyone who simply wants to eat healthier options for their desserts.
With a full chapter on ingredients and substitutions, six full color pages of photographs, icons to indicate allergen-free ingredients (such as soy-free, corn-free, nut-free and gluten-free) on each recipe, a full index by recipe and ingredient, and both Imperial and Metric measurements, Sweet Freedom proves that a healthy lifestyle can be sweet!
The recipes are all wheat-free, but they are not all gluten free. About 1/3 of the recipes in the book are gluten free.
Heller is the voice behind the popular food blog Diet, Dessert and Dogs, which celebrates sugar-free, gluten-free, allergy-friendly whole foods through a low-glycemic, vegan lifestyle. With over 600 foolproof recipes, humorous anecdotes and comments from two chatty canines, the blog illustrates Ricki's philosophy that "a healthy lifestyle CAN be sweet." In 2011, Diet, Dessert and Dogs was nominated for the SHAPE Magazine "Best Healthy Eating Blog" and as a "Best Healthy Cooking Blog" by The Kitchn in 2013.
Those who must avoid wheat, eggs, dairy and refined sugars will revel in the glorious array of cookies, pies, cakes, bars and more. Ricki's recipes are straightforward and easy to accomplish for those of us who aren't master bakers. This is sure to be my go-to book for delicious, healthy baked goods.
Author: Ricki Heller
Year of Release: 2009