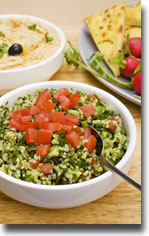 Tabbouleh is a Lebanese salad, traditionally made of tomatoes, bulgur, onion, mint and parsley, seasoned with olive oil, lemon juice and salt. I prefer to use quinoa instead of bulgur because is gluten free and I love it so much! You can also use whole-wheat couscous or brown rice if you can't find quinoa or bulgur or if they're too expensive in your country. White rice and regular couscous also work, but I prefer to eat whole grains because they're healthier and more nutritious.
Makes 2 servings, 180 calories each.
Ingredients
1 cup quinoa, rinsed well
2 tablespoon fresh lemon juice
1 garlic clove, minced
1/4 cup brown rice vinegar
Freshly ground black pepper
Braggs Amino to taste
1 large English hothouse cucumber or 2 Persian cucumbers, cut into 1/4″ pieces
1 pint cherry tomatoes, halved
2/3 cup chopped flat-leaf parsley
1/2 cup chopped fresh mint
2 scallions, thinly sliced
Bring quinoa, 1/2 teaspoon salt, and 1 1/4 cups water to a boil in a medium saucepan over high heat. Reduce heat to medium-low, cover, and simmer until quinoa is tender, about 10 minutes. Remove from heat and let stand, covered, for 5 minutes. Fluff with a fork.
Meanwhile, whisk lemon juice and garlic in a small bowl. Gradually whisk in olive oil. Season dressing to taste with salt and pepper.
Spread out quinoa on a large rimmed baking sheet; let cool. Transfer to a large bowl; mix in 1/4 cup dressing. DO AHEAD: Can be made 1 day ahead. Cover remaining dressing and quinoa separately; chill.
Add cucumber, tomatoes, herbs, and scallions to bowl with quinoa; toss to coat. Season to taste with salt and pepper. Drizzle remaining dressing over.