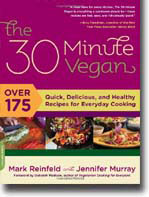 Busy vegans, rejoice! award-winning husband and wife chefs/authors Reinfeld and Murray present 150 delicious, easy-to prepare recipes for everyday vegan cooking—all dishes that can be prepared in a half-hour.
Sections include The Lighter Side of Life: Smoothies & Satiating Beverages; Snacks, Pick Me Ups & Kids' Favorites; Lunches: Wraps, Rolls, Bowls, and More; Extraordinary Salads; Sumptuous Soups; Small Plates: Appetizers, Side Dishes, Light Dinners; Wholesome Suppers; Guilt-Free Comfort Food: Healthy Translations of Old Stand-bys; and Divine Desserts.
The 30-Minute Vegan also provides at-a-glance cooking charts, kids' favorite dishes, and exciting menu suggestions for every occasion—making this an essential cookbook for busy vegans who want to enjoy delicious, healthful, whole-foods vegan fare every day.
Extremely helpful sidebars are peppered throughout the book: "Quicker and Easier," "Tips and Tricks," "Superfoods for Health," and "If You Have More Time" enhance the value of this book a thousandfold. As do the opening chapters, "Getting Started" and "Preparation Basics," which includes grain and dried bean cooking charts. It's wonderfully time-saving to have all of this information in one place.
Authors: Mark Reinfeld, Jennifer Murray
Year of Release: 2009