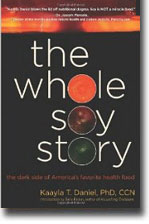 The Whole Soy Story: The Dark Side of America's Favorite Health Food is a groundbreaking expose that tells the truth about soy that scientists know but that the soy industry has tried to suppress. Soy is not a health food, does not prevent disease and has not even been proven safe. Epidemiological, clinical and laboratory studies link soy to malnutrition, digestive problems, thyroid dysfunction, cognitive decline, reproductive disorders, even heart disease and cancer.
Daniel's book contains everything you ever wanted to know about soy and much, much more and will make you wonder just why our nation, our bodies and our children are not being properly protected. Soy is just one more example of risks to the public that far outweigh the greedy benefits derived by big business and politicians. It is another serious wake-up call.
The Whole Soy Story is a devastating and authoritative indictment of the safety of soy foods and a "must read" for consumers who are under the misconception that soy foods promote health. Convincingly argued and extensively supported by the medical and scientific literature, it exposes the misleading propaganda of the soy industry in promoting the supposed benefits of this inferior food.
Maybe it would be better if we followed the example of the Chinese. They tend to drink about 16 oz of soymilk at the most per day and eat only a handful of fresh soybeans (edamame) twice a week. Fresh tofu, freshly fried tofu, miso, tempeh, real fermented soy sauce, fermented soybean pastes, are consumed in larger quantities.
They never eat soy alone and they don't have these strange soy hotdogs, soy burgers, soy powders, soy shakes, engineered soy products. Additionally, babies are never fed soymilk. As soon as babies can start eating food, they are fed fresh silken tofu, as it is an easily digested protein. But tofu is never the only source of protein. Small amounts of ground meat, milk and regular food are fed to babies.
Author: Kaayla T. Daniel
Year of Release: 2005