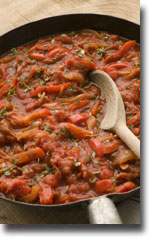 Piperade is a typical Basque dish prepared with onion, green peppers, and tomatoes sautéd and flavored with red Espelette pepper. The colors of piperade coincidentally reflect the colors of the Basque flag, which is red, green and white. Piperade may be served as a main course or as a side dish.
Number of servings: 8, 310 calories per serving.
Ingredients
6 medium tomatoes
1 tablespoon plus 2 teaspoons virgin olive oil
4 ounces vegan sausage
2 medium garlic cloves, finely minced
2 medium yellow onion, halved and thinly sliced
2 tablespoons chopped parsley
1 tablespoon chopped thyme leaves
1 medium bay leaf
2 medium red bell peppers, cleaned and sliced lengthwise into 1/4-inch strips
2 medium green bell peppers, cleaned and sliced lengthwise into 1/4-inch strips
2 teaspoons piment d'Espelette (or paprika or cayenne pepper)
1/2 teaspoon liquid smoke
Directions:
Bring a small pot of water to a boil over high heat. Prepare an ice water bath by filling a medium bowl halfway with ice and water.
Using the tip of a knife, remove the stem and cut a shallow X-shape into the bottom of each tomato.
Place tomatoes in boiling water and blanch until the skin just starts to pucker and loosen, about 10 seconds.
Drain tomatoes and immediately immerse them in ice water bath. Using a small knife, peel loosened skin and cut each tomato in half.
With a small spoon, scrape out any seeds and core and coarsely chop the remaining flesh. Set aside.
Place a large frying pan over medium heat and add 1 tablespoon oil.
Once oil shimmers, add vegan sausage and cook, stirring occasionally, until golden brown, about 8 minutes.
Remove to a plate with a slotted spoon and reserve.
Return pan to heat, add 2 teaspoons oil, and, once heated, add garlic and onion. Cook, stirring rarely, until soft and beginning to color, about 8 minutes.
Stir in herbs, liquid smoke, and pepper slices and season well with salt. Cover and cook, stirring rarely, until peppers are slightly softened, about 10 minutes.
Can be served over almost any dish.