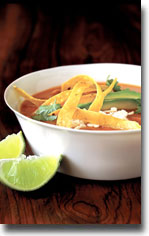 Classic tortilla soup, the way you'd find it in Mexico City, is simply good chicken broth combined with roasted tomatoes, onion, garlic, chiles and tortillas, cut into strips and fried. It's wonderfully satisfying, a sort of soul food soup in Mexican cooking. This vegan version simple substitutes chicken broth.
Number of servings: 6, 230 calories per serving.
Ingredients:
1 tbsp olive oil
1.5 cups chopped onion
2 garlic cloves, minced
2 bell peppers, chopped
1 zucchini, chopped
1 ear fresh corn
1/2 cup green onion, chopped
3 tbsp ground cumin
One 28-oz can crushed tomatoes
1 can chopped green chili peppers, drained
3 cups vegetable broth
1.5 cups cooked black beans
salt & pepper & crushed red chili pepper, to taste
Fresh lime juice, to garnish on top
Vegan cheese
Chopped avocado, for garnish
Tortilla sticks (flour tortillas, olive oil, garlic powder, chili powder)
Directions:
In a large pot over medium to low heat, add the olive oil, onion, and garlic. Sauté for about 5 minutes. Preheat oven on medium broil setting.
Chop the peppers, zucchini, green onion, and remove corn from cob. Add the veggies into the pot and sauté for another 5 minutes.
Add in the crushed tomatoes, cumin, broth, and chia seeds. Stir well and season with salt and pepper. Simmer on low-medium heat for 30 minutes. Stir in drained and rinsed beans just before serving.
Make your tortilla strips. Slice flour tortillas into 2 inch strips. Place in a small bowl and drizzle with olive oil to coat. Sprinkle on garlic powder and chili powder to taste and mix well with hands. Place on a lined baking sheet and broil for up to 3 minutes on medium. Watch very carefully. When golden, remove from oven.
After the soup simmers, ladle into bowls, and top with chopped avocado, fresh lime juice, cheese, green onion, and tortilla strips.