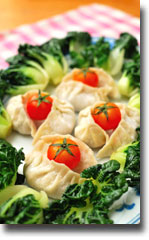 Long a symbol of longevity in Asia because of their health-promoting properties, shiitake mushrooms have been used medicinally by the Chinese for more than 6,000 years. More recently, their rich, smoky flavor has endeared them to American taste buds. These exotic hearty mushrooms can now be found in supermarket shelves across the U.S. throughout the year.
Servings 4: calories 270 per serving.
Ingredients:
1 package frozen round dumpling wrappers (or substitute regular wonton wrappers)
1 banana leaf for steaming (available frozen at most Asian/Chinese food stores)
FILLING:
3 cups sliced fresh shiitake mushrooms
1 cup cubed medium-firm tofu (about 2/3 package)
1 thumb-size piece galangal OR ginger, sliced
3-4 cloves garlic
2 spring onions, sliced
1/2 cup fresh coriander leaves and stems, chopped
1/4 tsp. white pepper
3 Tbsp. soy sauce
2 Tbsp. sesame oil
1 tsp. chili sauce (or more if you want them spicy)
1/4 cup vegetarian simulated chicken stock (or vegetable stock)
Directions:
Remove dumpling wraps and banana leaf from freezer. Allow banana leaf to thaw at least 30 minutes. The dumpling wraps will need at least 2 hours before using.
Prepare a steamer by lining it with 1 or two layers of banana leaf (to keep dumplings from sticking). I used a traditional bamboo steamer set over a pot of boiling water, but you could also use a colander with a tight-fitting lid.
Place all Filling Ingredients together in a food processor or large chopper and blitz to create the mushroom-tofu filling.
Lay 6 dumpling wrappers out at once over a clean working surface. Also have ready a small bowl of water for sealing the dumplings.
Spoon a little of the filling in the middle of each wrapper (about 1 tsp.). Then dip your fingers (or a pastry brush) in the water and moisten all around the outside of the wrapper.
Bring the sides of the wrapper up over the filling and press together to seal. If it doesn't seal, moisten the edges with a little more water.
Pinch along the seal to create a decorative edge (see picture).
Set the finished dumplings on a plate dusted with corn starch or flour. Steam the dumplings right away, or cover and refrigerate up to 3 hours.
To steam, place the dumplings in the banana leaf-lined steamer (they can be touching) and steam over high heat for 15 to 20 minutes (mushrooms need to be well cooked).
Serve with soy sauce and Nam Prik Pao Chili Sauce and ENJOY!
Note: For chewier pan-fried dumplings (goyza / pot sticker style), set a frying pan over medium-high heat. Add 1 Tbsp. oil and briefly fry the steamed dumplings to brown the bottom and sides. They brown very quickly, so stay with them.