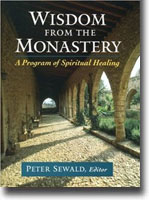 Much of this book discusses fasting and its importance. The book also discusses healthy living; diet, sleeping patterns, herbs, and the importance of silence. You get the perspective of living in a monastery, It is a very calming book and will take you from wherever you are into a kinder, gentler, more reflective place in your heart and your mind.
For almost two millennia, Christian men and women have banded together to live in devotion to God and humanity. Recent studies have shown that, on average, men and women in Holy Orders are healthier and live longer than the rest of us. What timeless solutions to the things that ail us might we have dismissed in our rush into the modern age?
Written by three very modern seekers who visited monastic communities to explore facets of the contemplative life, Wisdom from the Monastery reveals what these lay practitioners found so rewarding and deeply relevant to their lives today. Originally published in Germany as three separate volumes, the U.S. edition combines these major aspects of monastic practice: fasting, healing, and meditation. The book's warm, engaging tone presents millennia-tested practices of contemplative Christianity free from Church dogma.
One need not be Catholic, nor even Christian, to benefit from fasting, herbal and other natural remedies, and profound approaches to prayer, meditation, and silence. Readers learn what characterizes the best monastic communities and discover a sense of the retreat experience as spiritual adventure. Featuring over 100 photographs, daily exercises, personal anecdotes, and fascinating snippets on monastic experience through the ages, Wisdom from the Monastery introduces readers to a cast of remarkable monks and nuns who have chosen lives of renunciation and simplicity. Within these pages, monastic wisdom demonstrates its relevance across millennia and beyond monastery walls.
Wisdom from the Monastery recounts visits of three seekers to monastic institutions. The first undertakes the ancient practice of monastic fasting, the second studies the tradition of monastic healing as embodied in the Rule of St. Benedict and the writings of Hildegard of Bingen, the third discovers the way to peace of mind through prayer, meditation and silence. The goal of monastic life is not self-denial, but rather a more abundant life. The gentle guidance to be gleaned from the monastic path can help you make that a reality.
Author: Peter Sewald
Year of Release: 2004