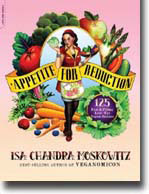 This is not your mother's low-fat cookbook. There's no foolish tricks, no bizarre concoctions, no chemicals, no frozen meals…no fake anything! Appetite for Reduction means cooking with real food, for real life. Skimpy portions need not apply.
In Appetite for Reduction, bestselling author and vegan chef Isa Chandra Moskowitz has created 125 delectable, nutritionally-balanced recipes for the foods you crave—lasagna, tacos, barbecue, curries, stews, and much more—and it's all:
Only 200 to 400 calories per serving
Plant-based and packed with nutrients
Low in saturated fat and sugar; high in fiber
Drop-dead delicious
You'll also find lots of gluten-free and soy-free options, and best of all, dinner can be on the table in less than 30 minutes. So ditch those diet shakes. Skip that lemonade cleanse. And fight for your right to eat something satisfying! Now you can look better, feel better, and have more energy—for health at any size.
This book contains 125 fabulous recipes that are quick to make and most take 30 minutes or less to prepare. These tasty dishes are easy on the budget and are made with real food for real people. Nothing bizarre, no outlandish over the top ingredients, just good for ya, low fat, delish vegan food! Oh and the portions are real, too! None of these ridiculous tiny serving sizes to get the low calorie counts.
Moskowitz is a proven advisor you want to have in the vegan kitchen with you, consistently creating recipes that are at once accessinle to the home cook and impressive enough to show off to those you want to, well, impress.
Appetite for Reduction will knock your socks off, just in time for a great Christmas gift for omnivores or vegans alike and strengthen some of those New Year's resolutions. Easy-to-follow directions, well-organized chapters, and gorgeous art direction and helpful tips.
The icons that designate quick-to-prepare, gluten- and soy-free recipes make this cookbook especially user-friendly Appetite for Reduction casts its culinary net wide. The recipes span the globe and include rare treats calorie-conscious diners usually don't get to enjoy.
Author: Isa Chandra Moskowitz
Year of Release: 2010