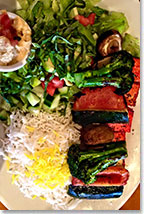 Kabobs are typically various cooked meat dishes, with their origins in Middle Eastern cuisine. Many variants are popular throughout Asia, and around the world. Get ready to create an authentic vegan-inspired version of kabobs at home that's full of flavor, great for parties, and ridiculously easy to make. Cubes of tofu are skewered and broiled or barbecued. They're simple, quick, and ready to eat in under 10 minutes.
Serves one
Ingredients:
1/2 red pepper cut into wedges
1/2 green pepper cut into wedges
1/2 yellow pepper cut into wedges
1 red onion cut into wedges
2 tbsp red wine
3 tbsp Braggs Aminos
1 4oz vegan steak (i.e. Beyond Meat brand)
pepper to taste
2 skewers
Directions:
Mix the peppers, onion, Braggs, and red wine.
Thread the veggies onto the skewers.
Place vegan tofu steaks and skewers on an uncovered grill or on your broiler until desired doneness, turning halfway through.
Serve.