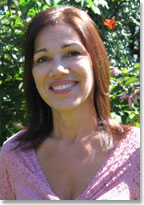 Since 1991, Dr. Randi Fredricks has been a published researcher and author on pioneering books and studies about couples, relationships, and communication. Dr. Fredricks has worked extensively with individuals, couples, and mental health.
Dr. Fredricks is a Licensed Marriage and Family Therapist (MFC 47803) who provides a unique holistic approach to psychotherapy by combining her education and experience, including the following:
Masters in Psychology
Ph.D. in Psychology
Doctorate in Naturopathy
Certified Clinical Hypnotherapist
Registered Addiction Specialist
Certified Addictions Treatment Counselor
Certified Clinical Nutritionist
Certified Clinical Herbalist
Renowned Expert and Best-Selling Author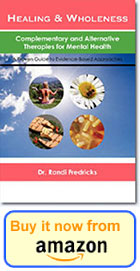 Dr. Fredricks' publications include the landmark books Healing & Wholeness: Complementary and Alternative Therapies for Mental Health and Fasting: An Exceptional Human Experience. Dr. Fredricks' multi-disciplinary approach allows her to approach issues from a neuro-biological perspective, helping the people she works with to feel better faster and appreciate lasting results.
Healing and Wholeness: Complementary and Alternative Therapies for Mental Health provides a comprehensive overview of complementary and alternative treatments for mental health, with information and research on their effectiveness for treating specific disorders.
Twenty-two chapters document research and the current practice of using complementary and alternative therapies in treating a number of disorders, including depression, anxiety, ADHD, autism, and addictions. For over 20 years, I have been at the forefront of research into addiction and dual diagnosis.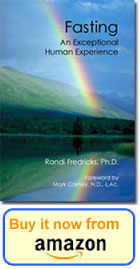 Dr. Fredricks is internationally recognized as an expert in the field of fasting and mental health. Her book Fasting: An Exceptional Human Experience discusses how fasting is associated with emotional health. Since prehistory, fasting has been used in various ways as a means of transformation.
As a spiritual practice, it is the oldest and most common form of asceticism and is found in virtually every religion and spiritual tradition. In psychology, studies have suggested that fasting can alleviate the symptoms of some psychiatric conditions, including depression and schizophrenia.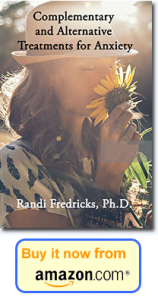 If you suffer from anxiety, you're not alone. While anxiety is one of the most common mental health complaints, it's also one of the most untreated. To make matters worse, modern psychiatric approaches are limited and often unsuccessful.
Fortunately, there are effective complementary and alternative methods, some of which help even the most treatment-resistant anxiety disorders. Complementary and Alternative Treatments for Anxiety is a concise, easy-to-read guide that provides information from the latest research and medical findings on complementary and alternative therapies in the treatment of anxiety.
Studies have shown that more people than ever are discovering that these therapies can have a natural anxiety-reducing effect. From nutritional changes to the use of herbal medicine and beyond, many of these methods have been used for thousands of years in the battle against anxiety. Now you, too, can have the ability to positively change your life and manage your anxiety once and for all.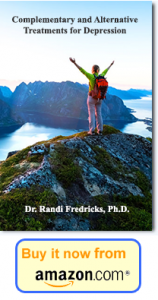 Depression is one of the most common mental health conditions affecting adults in the United States today. A healthy diet and regular exercise can help reduce anxiety. Complementary and alternative depression treatments may work best with traditional medications and counseling.
Complementary and alternative medicine has become increasingly popular. If you're experiencing anxiety and don't wish to seek conventional treatments, you may want to try alternative therapies. The basic goal of alternative therapy is to improve your general health and relieve depression symptoms with few or no side effects.
Complementary and alternative therapies can be helpful in reducing anxiety, but it may take some time before you see results. If you're having  symptoms of depression, alternative therapy alone probably will not be enough. Alternative therapies often work best when used along with traditional treatment, such as medication and counseling. It's always best to consult your doctor before beginning an alternative treatment program.
The relationship between  fasting and transpersonal psychology is examined, with a focus on peak experiences, self-realization, and other exceptional human experiences.  The book demonstrates how fasting can be profoundly therapeutic, create global paradigm shifts, and provide personal mystical phenomena.
Combining Natural Remedies With Psychotherapy
Dr. Fredricks works with people to alleviate the myriad of problems that come with being human. Emotional pain, depression, illness, loss, regret, emptiness, transitions, recovery from family influences, yearning for change, opening to love, forgiveness, self acceptance, activating one's spiritual practice, discovery of the true self, and finding one's unique place in this world are a sampling of the issues she commonly helps with.
California MFC47803, Arizona LMFT-15655, Florida MT4366