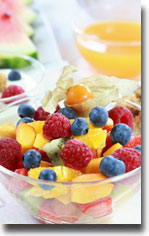 Most people think of fruits and vegetables as teeming with the vitamins, minerals, and powerful antioxidants we need to live and thrive. It is true that many plant foods are rich in many of these substances, but just because a food contains a particular nutrient doesn't mean we can access it.
Unfortunately, plant nutrients often suffer from low bioavailability—which means that they are hard for us to extract, absorb, and utilize. The question then how to we prepare them so the valuable micronutrients are available to  help  our brains function properly.
Plant-based diets appear to influence mental health positively. Vegetarians, in cross-sectional and interventional studies, showed fewer symptoms of depression, anxiety, stress, and mood disturbance than omnivores. Higher levels of antioxidants in the blood from plant sources have been associated with a significantly lower risk of depression, and lower suicide rates have been tied to higher consumption of fruit, vegetables, nuts, and soy and lower intake of dairy, meat, and fish.
Because of these findings, I have included many vegan and vegetarian recipes in this blog. My credentials and education as a Naturopath, Nutritionist and Herbalists uniquely qualifies me in this area.
Diet and Mental Health
Many of my clients are concerned about losing or maintaining their weight and of course feeling better. That is part of  the reason I promote the SOS diet. SOS-free means Sugar, Oil and Salt free. I first learned about this approach to  eating from Dr. Alan Goldhamer, Founder of the TrueNorth Health Center.
According to Goldhamer (and others), we get addicted to these foods because they're so high in calories and it's very little nutrients in them. Our body wants to conserve as much energy as possible and get the most amount of pleasure. When we have foods that are high in sugar, fat and salt, we get a ton of immediate pleasure from it. Some people tend to become more addicted to these foods than others.
Knowing the science behind it, the clinical evidence and all of the scientific research behind these foods and what they can do to our bodies just made it so clear to me that this is a superior diet. Because of  this, I include as many SOS recipes on the blog as possible.
Eat well and be happy!