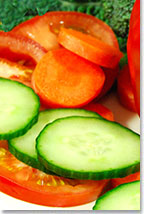 Fresh seasonal vegetables and fruits may be the backbone of an exciting vegan diet, and these veggies are the things that are going to and fill you up. A great low calorie side dish to any meal, these Roasted Tomatoes and Zucchini are flavorful and fresh. At 0 Points per serving, it's a wonderful guilt free vegetable recipe.
Ingredients
2 medium sized zucchini, chopped into bite sized pieces
1 small container of cherry tomatoes (about 20 tomatoes), sliced in half
1 medium carrot sliced
Non-fat olive oil cooking spray
Bragg Liquid Aminos to taste
Instructions
Preheat oven or toaster oven to 450 degrees.
Line a small baking sheet with aluminum foil (for easy cleanup) and lightly mist with the non-fat cooking spray.
Place vegetables onto baking sheet and lightly mist with non-fat cooking spray or olive oil mister, then sprinkle evenly with the Bragg Liquid Aminos.
Roast in oven until vegetables start to char, about 15-20 minutes.
Serve immediately.