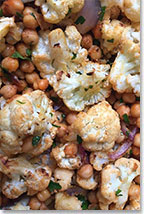 Roasting vegetables is one of my favorite ways to eat them. The roasting process adds such a fantastic flavor, and even my company will eat their veggies this way, so that's a huge plus. One of our family's favorite vegetables to roast is cauliflower, so recently, I decided to experiment with a few ideas and see if I could take a standard, roasted cauliflower recipe, and kick it up a notch. This Roasted Cumin Spiced Cauliflower and Garbanzo Beans is so ridiculously simple, but is absolutely delicious and truly tastes like something that would be served as a side dish in a fancy restaurant.
Ingredients
1 medium head of cauliflower, chopped into florets
1 15 oz can garbanzo beans, drained and rinsed
Zest of a lime
1 medium red onion sliced
2 tsp cumin
1 tsp onion powder
2 tsp garlic powder
pepper to taste
Bragg Liquid Aminos to taste
Directions
Preheat oven to 400, and line a large, rimmed baking sheet with parchment paper. Lightly mist with olive oil cooking spray or an olive oil mister.
Place all ingredients in a large Ziplock bag, seal, and shake well to evenly coat.
Dump contents onto baking sheet, and spread out evenly.
Place in oven and roast for about 20 minutes, shaking the baking sheet once or twice throughout, to help ensure even roasting.
Recipe note: I consider this to be an oil-free recipe as the olive oil spray is simply to keep the vegetables from sticking.