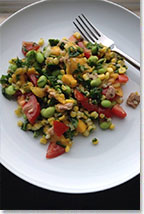 This Asian-influenced salad is excellent tossed with shredded lettuce. Edamame is a preparation of immature soybeans in the pod, found in cuisines with origins in East Asia. The pods are boiled or steamed and may be served with salt. In Japan, they are usually blanched in 4% salt water and not served with salt.
Ingredients
1/2 cup vegetable broth
1 cup edamame (shelled), cooked
1 medium tomatoe
1 cup cucumber diced
1 cup corn
1 cup mango diced
1 cup uncooked bell pepper, red variety, diced
1/3 cup uncooked scallion, chopped
1/4 cup fresh mint leaves, chopped (plus extra for garnish)
3 Tbsp fresh lime juice (plus wedges for serving)
2 Tbs borwn rice vinegar
1 Tbsp jalapeño pepper , minced
1 Tbs pminced ginger
2 tsp minced garlic
Instructions
Toss together edamame, carrot, cucumber, mango, red pepper, scallion and mint in a medium bowl; set aside.
Whisk together lime juice, brown rice vinegar, broth, oil, jalapeno, ginger and garlic; add to veggie mixture and toss to coat. Serve garnished with mint and a lime wedge.
Serving size: 1 1/2 c