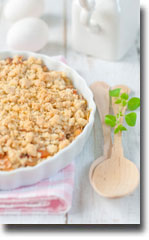 Apple are the perfect fruit for baking. Honeycrisp apples have a firm texture that holds up well during baking; Macoun, Empire, or Fuji are other good choices. Fresh (or frozen) cranberries contribute flavor as well as some juice; do not substitute dried cranberries. A mini-chopper makes quick work of chopping the cranberries.
Servings 8: calories 270 per serving.
Ingredients:
FILLING
3 pounds apples such as Golden Delicious, Gala, Winesap, or Mutsu, peeled, cored and cut into 1/2 inch chunks
1/2 cup maple syrup
1/3 cup cranberries
1 tablespoon arrowroot powder or corn starch
1 teaspoon finely grated lemon zest
1/2 teaspoon ground cinnamon
TOPPING
11/2 cup unbleached flour
3/4 cup sliced almonds
1/2 cup natural brown sugar
1/2 teaspoon baking powder
1 pinch salt
8 tablespoons coconut oil
Directions:
Set the oven to 375. In a large bowl, add the apples, maple syrup, cranberries, arrowroot, lemon zest, and cinnamon and toss well. Transfer to 1 or 2 pie dishes.
To make the topping: Combine the flour, almonds, brown sugar, baking powder, and salt and mix well with a whisk. Add the butter and toss with your fingertips to form a crumbly topping. Spread over the apples and cover with foil.
Bake for 30 minutes then remove the foil and bake at 350 for another 20-30 minutes until the apples are bubbling and the topping is nicely browned. Remove the crumble from the oven and allow it to cool for 20 minutes before slicing.
Optional: serve with coconut whipped cream on top.
Click here for the Coconut Whipped Cream recipe