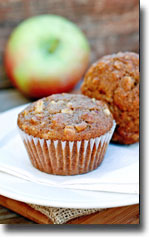 You can create more healthful versions of family-favorite muffins and baked goods in your own kitchen. If a recipe calls for butter, start by replacing it with healthful oil, such as the organic coconut oil used in this recipe. Invite people to taste your revised recipes before telling them about the changes. Many people react negatively to a "better-for-you" version before they even taste it, but if they get the chance to taste first, they will likely agree that they like it just as much as—or even better than—the original.

Number of servings: 14, 190 calories per serving.
Ingredients:
DRY
1/2 cups whole rolled oats
1 2/3 cups rolled oats, blended into oat flour (crumbly texture)
2 tsp baking powder
3/4 tsp salt
1 cup coconut sugar or organic dry sugar
Dash cinnamon
WET
1/2 cup diced apples
2/3 cups boiling water
2 1/2 Tbsp organic coconut oil
1/4 cup chopped or finely processed pecans
2 Tbsp orange juice
1/2 tsp orange zest
1 1/2 tsp flax seeds, whole or crushed
1/4 tsp vanilla extract
FOLD IN
2/3 cup almond milk, room temperature
1 small banana, mashed
1/4 cup coconut flour
1/3 cup raw cacao nibs or dark chocolate chips
Directions:
Preheat oven to 350 degrees. Line baking muffin cups.
Boil 2/3 cup water and add to a small bowl with the diced apples, flax seeds, orange juice, zest, vanilla and coconut oil.
Process the rolled oats in a Vitamix or similar processor
Combine all the dry ingredients in a large mixing bowl.
Fold the wet mixture into the dry ingredients. Stir until a thick mixture forms.
Fold in the banana, almond milk, coconut flour and cacao nibs.
Add batter to muffin cups.
Bake for 18 minutes at 350 degrees.