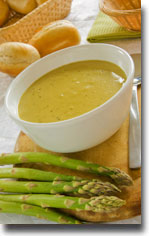 This delicate and creamy asparagus soup tastes wonderfully luxurious, yet it's made without heavy cream — just vegetables and broth. The fleshy green spears of asparagus are both succulent and tender and have been considered a delicacy since ancient times. This highly prized vegetable arrives with the coming of spring, when its shoots break through the soil and reach their 6-8 inch harvest length.

Servings 6: calories 270 per serving.
Ingredients
2 pounds green asparagus
1 large onion, chopped
2 tablespoons vegan margarine
5 cups vegetable broth
½ cup raw cashews, soaked in warm water for 1 hour (or ½ cup soy/almond milk)
¼ teaspoon fresh lemon juice, or to taste
Instructions
Cut asparagus into ½-inch pieces.
In a large pot, heat margarine over medium-low heat, and cook the onion for a few minutes, until softened.
Add asparagus pieces and salt and pepper to taste, then cook, stirring, 5 minutes. Add broth and simmer, covered, until asparagus is very tender, 15 to 20 minutes.
Add cashews and purée soup using an immersion blender (or in batches in a blender) until smooth.
Season with lemon juice, and salt and pepper.
Notes
This soup keeps in the fridge for up to 2 days. To freeze, let soup cool completely before freezing it in an air-tight container. Slowly reheat soup on stove-top (or microwave) before serving.