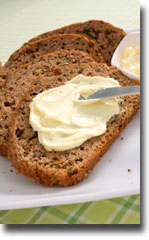 Both adults and children enjoy a good spread on a healthy whole grain bread. For a healthy low-fat spread, that supplies even more nutrients, try this fresh Banana Coconut Spread and choose a whole grain and stone ground bread.
Number of servings: 1, 320 calories per serving.
Ingredients:
5 Tbsp virgin coconut oil (unrefined is better)
pinch salt
1 banana
Dash cinnamon
2 tsp agave syrup
Directions:
Add all ingredients to a blender or food processor and blend until creamy.
If needed for blending smoothly, add a few splashes of warm water.
Spoon mixture out into freezer-friendly container.
Place in the freezer for at least ten minutes.
Serve (spread should be firm yet spreadable).
Place back in refrigerator to store. Use within a 3 days.