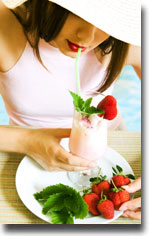 Load up on fruits and vegetables by starting each morning with a nutritious blended drink. Wake up and blend up one of these healthy smoothie recipes for a great start to your day. With the right blend of ingredients, a smoothie can be a nutritional powerhouse—full of antioxidants, minerals, vitamins, and protein.
Number of servings: 1, 280 calories per serving.
Ingredients:
1 cup freshly cut pineapple
1/2 cup fresh strawberries
1 ripe banana
1-2 leaves of kale (any kind of kale will work)
1/2 English cucumber, peeled and roughly chopped
1 cup water
Instructions:
Combine everything into your blender and blend.
Add more water if needed to get things moving around in the blender.