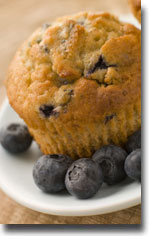 These blueberry muffins are large and yummy. I usually double the recipe and fill the muffin cups just to the top edge for a wonderful extra-generously-sized deli style muffin. Add extra blueberries too, if you want for additional moistness and flavor.
Number of servings: 12, 290 calories per serving.
Ingredients:
2 cups

Unbleached All Purpose Flour (I used bleached)

1 and 1/2 teaspoons

Baking Soda

1/2 teaspoon

Salt

2 Lemons

For Lemon Zest

3/4 to 1 cup

Sugar

1 cup

Milk, any (I used Rice Milk)

1/3 cup

Canola Oil

1 teaspoon

Lemon Extract (I did not use it)

1 tablespoon

White Vinegar (I used Apple Cider Vinegar)

1 and 1/2 cups

Fresh OR Frozen Blueberries
Directions:
Preheat the oven to 375F  for 15 minutes. Lightly grease a muffin tin.
In a medium bowl, combine together flour, baking soda, salt and lemon zest.
In a large bowl, combine the sugar, milk, oil, extract, and vinegar. Mix well.
Add the dry ingredients to the wet ingredients, stir until just combined. Don't over stir.
Gently fold in the berries using a rubber spatula.
Fill the muffin tins about 2/3rds full.
Bake until a wooden skewer inserted into the center comes out clean, about 22 minutes.
Remove from the oven and let it cool for 5 minutes. After that remove the muffins from the tins and cool on a wire rack.