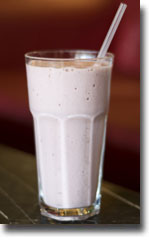 Plump blueberries and ripe peaches join together to make an excellent smoothie. The right combination of fruits can help you boost your energy levels. Peaches are packed with antioxidant vitamins, B vitamins that support metabolism and energy-providing carbohydrates. Blueberries also positively affect your energy due to the high amount of carbohydrates contained within them.

Number of servings: 1, 290 calories per serving.
Ingredients:
1/2 peach
1 cup blueberries
1 cup green tea
6 ounces silken tofu
1 tbsp chia seeds
Instructions:
Combine everything into your blender and blend.
Add more water if needed to get things moving around in the blender.