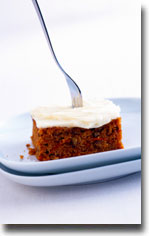 No one really knows where carrot cake came from although some believe that it evolved from the Carrot Pudding of medieval times, during the middle ages sugar and other sweeteners were difficult or expensive to come by in Britain and carrots had long been used as sugar substitutes. While a pudding would have been a steamed and vaguely cakelike affair, there was still much adaptation which would occur, because as much as you search for it, you're not going to find any mention of medieval cream cheese frosting.

Number of servings: 12, 230 calories per serving.
Ingredients:

CAKE
6 large eggs
2 cups (packed) dark brown sugar
2 cups vegetable oil
1 tablespoon fresh lemon juice
1 tablespoon Cointreau or other orange liqueur
1 1/2 teaspoons vanilla extract
4 cups all purpose flour, divided
1 pound large carrots, peeled, coarsely grated (about 4 cups)
1 cup crushed pineapple in juice, undrained
1 cup walnuts, toasted, coarsely chopped
1 cup sweetened dried cranberries
2 1/2 teaspoons baking soda
1 1/2 teaspoons salt
1 teaspoon ground cinnamon
1/2 teaspoon ground cloves
1/2 teaspoon ground nutmeg
1/2 teaspoon baking powder
FROSTING
3 8-ounce packages Philadelphia-brand cream cheese (do not use reduced-fat or fat-free), room temperature
1 cup (2 sticks) unsalted butter, room temperature
3 cups (12 ounces) powdered sugar
1 1/2 teaspoons vanilla extract
Directions:
CAKE
Preheat oven to 325°F. Butter and flour two 9-inch-diameter cake pans with 2-inch-high sides. Line pan bottoms with parchment paper.
Using electric mixer, beat eggs, sugar, and oil in large bowl until thick and smooth, about 3 minutes. Beat in lemon juice, liqueur, and vanilla, then 2 cups flour. Add grated carrots, crushed pineapple, walnuts, and cranberries. Stir to blend. Combine baking soda, salt, spices, and baking powder in medium bowl. Add remaining 2 cups flour to spice mixture and whisk to blend. Add flour mixture to cake batter and stir to combine. Divide batter equally between prepared pans (about 5 cups each).
Bake cake layers until tester inserted into center comes out clean, about 1 hour. Cool cakes in pans 10 minutes. Cut around pan sides. Turn out cakes onto racks. Peel off parchment and cool completely.
FROSTING
Using electric mixer, beat cream cheese and butter in large bowl until smooth and fluffy. Gradually beat in powdered sugar. Beat in vanilla.
Place 1 cake layer on platter. Spread 2 cups frosting evenly over. Top with second cake layer. Spread remaining frosting thickly over top and sides of cake.