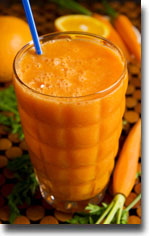 Thanks to that carrot-eating icon, Bugs Bunny, generations of American children have grown up knowing that carrots are good for your health. Packed with health-promoting beta carotene, they promote good vision, especially night vision, and help combat health-damaging free radical activity. Easy to pack and easy to carry, carrots are a nutritious, low calorie addition to your diet any time of day.
Number of servings: 1, 220 calories per serving.
Ingredients
1 orange
1 banana
¾ cup shredded carrots
¾ cup apple juice
3-4 ice cubes (optional)
Instructions
Peel banana and orange. Place in a blender with all other ingredients. Blend until smooth.
If this is not sweet enough, you can adjust by adding a little sugar or honey, or another piece of fruit such as an apple or pear.