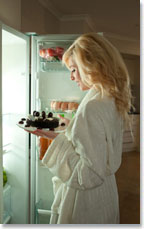 New research has demonstrated that women who eat at least two chocolate bars each week appear to have a 20% lower risk of stroke, compared to females of the same age and weight who rarely or never eat chocolate.
The researchers, from the Karolinska Institute, Sweden, reported in the Journal of the American College of Cardiology that the flavonoids in cocoa can suppress oxidation of bad cholesterol (LDL, low-density lipoprotein). LDL is associated with stroke and other cardiovascular diseases.
The study's authors explained that several studies have clearly demonstrated that chocolate can be good for the cardiovascular system, particularly the circulatory system which comprises the heart and blood vessels. The consumption of chocolate has been found to reduce diastolic and systolic blood pressure in randomized, short-term trials. Chocolate has also been shown to improve endothelial and platelet function, and to improve insulin resistance.
Chocolate comes in dark, milk and white varieties. Its brown coloration comes from cocoa solids which are known to contain flavonoids – powerful antioxidants. Dark chocolate has a much higher concentration of cocoa, and consequently more flavonoids than milk chocolate, and generally contains less sugar.
The goal of the current study was to determine whether chocolate consumption had an impact on the risk of stroke. The researchers used the population-based Swedish Mammography Cohort, which consisted of 39,227 adult females who completed a questionnaire that asked 350 questions regarding lifestyle and diet factors.
Some participants were excluded, such as those whose reported total energy intake values did not sound feasible, women with a history of stroke, coronary heart disease, or diabetes at or before baseline. This reduced the list to 33,372 adult females aged from 49 to 83 years.
Next, a food questionnaire was self-administered to assess their chocolate intake. The women were asked to indicate how often they ate chocolate (as well as 95 other foods) during the previous 12-month period. The results were divided into 8 categories, ranging from no chocolate intake to at least 3 times daily.
The researchers noted that during the 1990s, nine out of every ten Swedish women ate milk chocolate with a cocoa solids content of about 30%. Cocoa content of chocolates in Europe is generally significantly higher than in the USA.The researchers concluded that their larger study was similar to previous smaller ones with an inverse association between chocolate consumption and total stroke. According to the authors, chocolate consumption needs to be high for risk of stroke to be significantly impacted. Furthermore, it was only the women in the highest chocolate consumption who experienced a significant drop in stroke risk.
As a final note, the researchers warned against eating too much chocolate, because it tends to have a high sugar content, along with fats and calories. However, this is still good news for chocolate lovers, who now have another excuse for indulging.