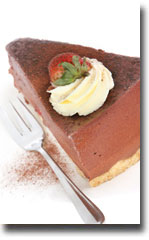 After being introduced to chocolate by the Spanish, French chefs have been cooking with chocolate since the early 17th century. Mousse, which means "foam", originated in France in the 18th century. It was only a matter of time until cooking with chocolate and making dishes with foamy textures came together for "mousse au chocolat."
Ingredients:
FILLING

1/2 cup coconut milk (or other non-dairy milk)

1/2 cup dark chocolate chips

1 package chocolate vegan pudding (or

3 Tbsp cocoa powder

)

1 tsp sea salt

1 16oz. block of silken tofu

1/2 tsp vanilla extract

1 Tbsp cornstarch or arrowroot powder

1 Tbsp

agave syrup

dash of cinnamon

strawberries for garnish

CRUST
1 vegan chocolate cookie crust (or use crushed vegan chocolate cookies to make a crumb crust.)
Directions:

Chill you coconut milk can and scoop off the coconut cream on top in a large bowl.

Add coconut liquid (the thinner clear liquid left in the coconut milk can) as needed until a cream cheese-like texture is reached.

Set aside in fridge.

In a sauce pot, add the coconut milk  over medium heat.

Dissolve the cornstarch/arrowroot and/or the pudding mix (or pudding mix substitute as described above). 

Add in the chocolate chips and stir until they are melted and the mixture begins to thicken.

Transfer the liquid to a high speed blender of food processor.

Add in the silken tofu and remaining chocolate filling ingredients. Blend until smooth.


Pour the chocolate filling into

the chocolate cookie crust

about 3/4 the way full.

Set pie in fridge to chill and harden for at least 2 hours.

Serve with coconut whipped cream on top and a single strawberry.