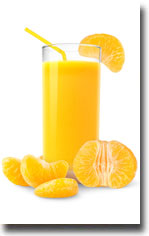 The desire for sweet-tasting foods is perfectly normal and natural! Indeed, our tongue contains an abundance of sweet receptors for a good reason. Fresh fruit, the source of natural sweetness, is health promoting and an excellent source of calories for the human body.
Number of servings: 1, 200 calories per serving.
Ingredients:
1 Grapefruit
2 Oranges
Handful of kiwis
Water for desired consistency
Directions:
Blend all ingredients in blender, adding more water as needed for desired consistency.
Great for the days following a fast.