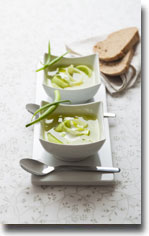 Leeks are an excellent source of vitamin K. They are very good source of manganese, vitamin B6, copper, iron, folate, and vitamin C. Leeks are also a good source of vitamin A (in the form of carotenoids, dietary fiber, magnesium, vitamin E, calcium, and omega-3 fatty acids. This clear leek soup is excellent in the days before a water fast.
Makes 4 servings, 180 calories each.
Ingredients
2 lbs. leeks
Water to cover in a large pot
Instructions
Clean leeks and rinse well to get rid of sand and soil. Cut end of green parts leaving all the white parts plus a suggestion of green. (Reserve the extra greens for soup stock.)
Put leeks in large pot and cover with water. Bring to boil and simmer with no lid for 20-30 minutes. Pour off the liquid and reserve. Place the leeks in a bowl.
Drizzle with a few drops of extra-virgin olive oil and lemon juice. Season sparingly with salt and pepper. Add chopped parsley if you wish.