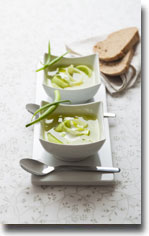 Leeks are an excellent source of vitamin K. They are very good source of manganese, vitamin B6, copper, iron, folate, and vitamin C. Leeks are also a good source of vitamin A (in the form of carotenoids, dietary fiber, magnesium, vitamin E, calcium, and omega-3 fatty acids. This clear leek soup is excellent in the days before a water fast.
Makes 4 servings, 180 calories each.
Ingredients
2 lbs. leeks
4 small carrots
Water to cover in a large pot
Pepper to taste
Braggs Aminos to taste
Parsley
Instructions
Clean leeks and rinse well to get rid of sand and soil. Cut end of green parts leaving all the white parts plus a suggestion of green. (Reserve the extra greens for soup stock.)
Put leeks and carrot in large pot and cover with water. Bring to boil and simmer with no lid for 20-30 minutes. Pour off the liquid and reserve. Place the leeks in a bowl.
Drizzle with a few drops of  lemon juice. Add chopped parsley if you wish.