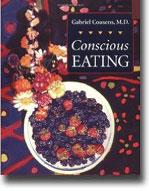 Conscious Eating has been referred to as the "Bible of Vegetarians," for both beginners and advanced students of health. This classic work in the field of live-food nutrition is an inspirational journey and a manual for life. Included is new information on enzymes, vegetarian nutrition for pregnancy, and an innovative international 14-day menu of gourmet, Kosher, vegetarian, live-food cuisine, plus 150 recipes.
In this book, Cousens teaches us how to follow the Ayurvedic principles through a 80-90% raw food diet. He also teaches us how to individualize our diets for our metabolic body types. This is one of the only books I know that teaches how to individualize diet for a vegetarian.
The book covers religion, meditation, toxins in our environment, and has a nice living foods recipe section in the back of the book. The nice thing about it, is that with the recipes, he doesn't try to offer dishes that are similar to those which are cooked. I see a lot of vegetarian recipe books doing that. "Try our delicious all vegan pizza!" and of course, it tastes no better than a branch off of the Maple tree in my back yard. These recipes offer new tastes.
Cousens details studies where poor diets were fed to indigenous groups such as the Kurds, Yemenites, and Zulus. The indigenous people studied had been introduced to highly refined carbohydrate foods and suffered from degenerative conditions like heart disease, diabetes, and cancer. He points to a diet of fast, frozen, and processed foods, adopted by Americans and peoples of most industrialized nations, as one that is inadequate. He characterizes this diet as one loaded with refined sugar, white flour, and pesticides.
The author establishes guidelines for healthy eating by recommending that people consume natural, whole, and organic foods and that the diet be primarily fresh, live raw foods. He advocates a high-complex-carbohydrate, low-protein, and low-fat regimen with attention to receiving adequate sunlight. Deep breathing, bathing, and contact with nature in the form of gardening or hikes all have therapeutic effects.
In this era where so many things are condensed or encapsulated, reading a book with 850 pages is a daunting task. In this case, it's worth the effort. In Conscious Eating Gabriel Cousens has compiled a handbook that emphasizes the benefits of a raw food diet. He has woven together many philosophies from around the world and incorporated them into a body-mind-spirit program that will be beneficial to the individual and to all mankind. The book is a valuable reference tool that belongs in every vegetarian's library.
Author: Gabriel Cousens
Year of Release: 2000