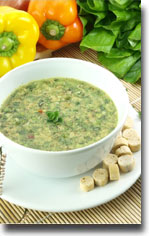 Lentils add bulk, heartiness and boost the nutritional profile by adding protein and good carbohydrates. They cook fast too so you can pull this recipe together in about 40 minutes from start to finish. Broccoli is a nutrient dense vegetable. Rich in fiber, vitamin k & C and folate, its deep color holds many health benefits. I often eat it simply steamed with a dollop of hummus and a little sambal oelek. Once mixed, the combination is creamy, slightly spicy and delicious.

Number of servings: 6, 190 calories per serving.
Ingredients:
6 ounces silken tofu
3 Tbsps water for water
1 medium onion, diced
3 garlic cloves, minced
1/4 teaspoon red pepper flakes
1 cup red lentils
2 – 3 large heads broccoli, cut into florets (stalks chopped ok too)
6 – 7 cups water or vegetable broth (or combo)
1 can coconut milk, optional
Bragg Liquid Aminos to taste
Directions:
In a large dutch oven or stock pot, heat oil/water over medium heat, add onion and cook until translucent, about 5 minutes.
Add garlic and red pepper flakes, cook another minute or until fragrant. Add lentils, broccoli, broth/water and optional coconut milk.
Turn heat to high and bring to a boil, using the back of a fork or spoon press the broccoli down as much as you can to cover with liquids. Cover pot with lid, reduce heat to low and simmer for 15 – 20 minutes.
Soup is done when lentils are tender. Taste soup, add salt as needed.
Using a blender, puree until desired consistency.
Once cooled a few minutes, serve.