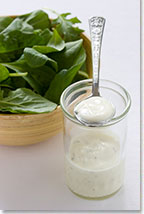 Ranch dressing is a type of salad dressing typically made of some combination of buttermilk, salt, garlic, onion, mustard, herbs, and spices, mixed into a sauce based on mayonnaise, or another oil emulsion. It's not hard to understand why ranch dressing is so popular: It's creamy without being heavy, with a good herbal kick and a subtle garlic presence.
A creamy, tangy, dairy free ranch dressing with a hint of southwest flavors. This dressing is super versatile. Try it on salads, burgers, baked potatoes, stirred into soup, as a dip for raw veggies.
Ingredients
8 tablespoons silken tofu
1/2 cup water
Juice of 1 lemon (about 2 tbsp)
1 tbsp apple cider vinegar
1 clove garlic
1/2 tsp onion powder
1 tsp dried dill
1 tsp snipped chives
1/2 tsp dried oregano
1 tsp cumin
1/2 tsp smoked paprika
Bragg Liquid Aminos to taste
Instructions
Blend all ingredients in a high speed blender until smooth. Add additional water by the tablespoon if needed to thin. This dressing will keep in the fridge for several days.