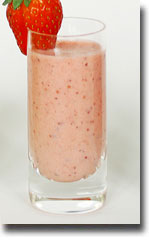 Start your day off right with this creamy strawberry smoothie. Vegan. Gluten-free and dairy-free. This is a fast vegan smoothie with a deep pink color and a rich, creamy texture. Very filling, and perfect for people in a rush in the morning. You don't have to give up a good breakfast when it's this fast to make. I use vitamin fortified coconut milk.

Number of servings: 1, 290 calories per serving.
Ingredients:
1 cup strawberries
1 cup coconut milk
1orange peeled and sectioned
1/2 cup soy yogurt
Instructions:
Combine everything into your blender and blend.
Add more water if needed to get things moving around in the blender.