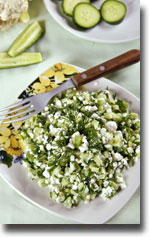 Few foods are as cool as a cucumber. These low-calorie veggies contain many nutritional benefits, including hydrating properties and valuable nutrients. There are hundreds of varieties of cucumber, and they come in dozens of colors, but the edible types are classified as being for either slicing or pickling. This healthy cucumber salad recipe is mixed with fresh herbs, strawberries and a homemade lime-strawberry vinaigrette. It's a fresh, paleo & vegan meal!
Serves four, 200 calories per portion.
Ingredients
For the vinaigrette:
3 Tbsp Raw Apple cider Vinegar
2 Tbsp Fresh lime juice (about 1 large lime)
1 Tbsp + 1 Tsp Fresh lime zest, firmly packed (about 1 large lime)
1/2 tsp Salt
Pinch of pepper
2 Tbsp Light agave (Honey for Paleo version)
2/3 Cup Roughly chopped fresh strawberries, loosely packed (90g)
1 Tbsp Red onion, Chopped
1/3 Cup Pompeian Extra-Virgin Olive Oil
1/2 Tbsp Chia seeds (Poppy seeds work well too)
For the salad:
4 Large cucumbers, diced
16 ounces daikon (Japanese white radish), peeled, diced
2 Tbsp Fresh mint, minced
1/2 Cup Cilantro, roughly chopped
Instructions
In a small food processor (mine is 3 cups), combine the apple cider vinegar, fresh lime juice, lime zest, salt, pepper, agave, strawberries and red onion until smooth, and the berries and onion are broken down.
With the food processor running, stream in the olive oil until well combined, the dressing lightens in color, and is thick and creamy. Transfer to a bowl and stir in the Chia seeds.
Dice the cucumbers and place in 4 bowls.
Divide the spinach, daikon, mint and cilantro between the bowls, followed by the salad dressing. (You should have ended up with 1 cup of dressing, so 1/4 cup of dressing per salad)
Toss until evenly coated.