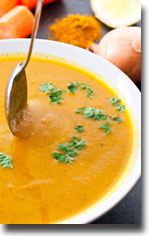 Curry is a dish originating in the cuisine of India. The common feature is the incorporation of complex combinations of spices or herbs, usually including fresh or dried hot chilies. Traditionally, the use of the term curry is limited to dishes prepared in a sauce or soup. Curry dishes prepared in the southern states of India may be spiced with leaves from the curry tree.
Serves four, 91 calories per portion.
Ingredients:
7 cups water
Chicken or vegetable stock cube
Salt and pepper
2 ½ cups of carrot, chopped into rounds
1 medium onion, peeled and chopped
1 clove of garlic, peeled and chopped
¼ teaspoon mild curry powder. Alternatively use curry paste (check calories on the jar)
1/8 cup light soft cheese
Directions:
Boil the water in a large pan, add the stock cube and a pinch of salt and pepper.
Add the carrots, onion and garlic.
Simmer for 15-20 minutes until the carrots are tender.
Wait for it to cool slightly before using a hand blender.
When serving, add curry powder and the cheese.
Reheat gently so the cheese melts.