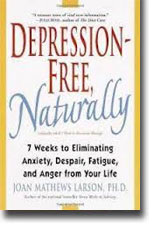 Depression-Free, Naturally: 7 Weeks to Eliminating Anxiety, Despair, Fatigue, and Anger from Your Life is a groundbreaking book, nutritionist Joan Mathews Larson, Ph.D., founder of Minnesota's esteemed Health Recovery Center, offers her revolutionary formulas for healing your emotions–biochemically.
Through proven all-natural formulas, Seven Weeks to Emotional Healing will help you find the emotional well-being you've been missing your entire life.
Inside you'll discover how to
Screen yourself for emotional and behavioral symptoms
Recognize the mental and physical clues that indicate biochemical imbalances
Heal your depression and anxiety with the right vitamins and minerals
Stabilize your mood swings and protect your well-being with essential fatty acids
Choose the right foods for optimal mental fitness
Rejuvenate your body with key natural hormones
Safe, fast, more long-lasting and cheaper than prescription drugs or psychotherapy, Seven Weeks to Emotional Healing will help you find balance and well-being. Larson believes that many doctors misdiagnose nutritional imbalances as psychological disorders.
She argues that most people who are depressed, fatigued or addicted to food, cigarettes or alcohol suffer from a deficiency of vitamins or amino acids that is only exacerbated by drugs like Xanax, Prozac and lithium.
Larson provides checklists of symptoms, possible disorders and corrective formulas along with simple but thorough explanations of how the biochemistry works. She links biochemical emotional problems with the gradual shift in the American diet over the past 60 years toward sugary, carbohydrate-laden and processed foods, which disturb the body's insulin production and deprive the brain of much needed vitamins and nutrients.
Author: Joan Mathews Larson
Year of Release: 2001