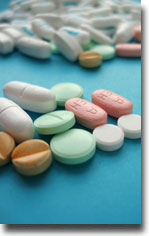 Vitamins and other nutritional supplements created for human consumption are made from two different grades of raw materials:
Pharmaceutical Grade: Meets pharmaceutical standards
Food Grade: Meets standards for human consumption
The main difference with each grade is quality and purity. During the manufacturing process various substances are added, so no product is 100% pure. Pharmaceutical grade supplements must be in excess of 99% pure without binders, fillers, dyes, or excipients (substances used as diluents for a drug).
Food grade supplements do not have to meet these standards are generally cheaper and of lesser quality because of it. Supplements that are food grade vitamins are available over the counter (OTC), whereas pharmaceutical grade are only available through prescription and health care professionals.
Pharmaceutical grade supplements are formulated to yield a higher degree of bioavailability; the degree to which the nutrient is absorbed into a living system. As these supplements can be absorbed into the body quickly, they improve and enhance well-being rapidly. Supplements with enteric coatings also have increased bioavailability because the pill or capsule doesn't dissolve until it reaches the small intestine.
For example, enzymes without enteric coatings are basically ineffective. Enzymes can be easily be destroyed by stomach acids, making them unavailable for metabolism in the bloodstream. The enteric coatings protect the enzymes from being dissolved by these stomach acids until they reach the small intestine where they can be released into the blood.
Transportation and storage can have a significant impact on the bioavailability of certain supplements. Like many oils, fish oil processed under high heat conditions, or exposed to heat and light during transportation and storage can easily become rancid, destroying bioavailability.
To make sure you're getting the highest quality supplements possible, opt for pharmaceutical grade available through health care practitioners. Supplements that are pharmaceutical grade are more rigorously tested for quality and ability to provide consistent results. When you purchase pharmaceutical grade supplements, you can be confident that they've been tested by a third party to confirm that they contain the amount of nutrients the manufacturer professes they contain.