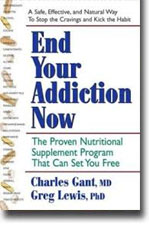 Whether it involves drugs, alcohol, smoking, or food, addiction is an overwhelming and destructive force. While many rehabilitation programs are available, the truth is that too many people return to their old habits. Why? End Your Addiction Now not only explores the biochemical factors that are the real cause of this problem, but offers proven advice on how to break addictions once and for all.
Based upon the research and experience of Charles Gant and other pioneers, this practical handbook provides simple step-by-step directions for kicking the habit. Perhaps most unique, End Your Addiction Now is designed both to guide its readers to effective physicians and treatment facilities, and to provide a path for those who wish to seek wellness on their own.
At the heart of Gant's approach is a distinctive program of nutritional supplements designed to jump-start recovery by reducing substance cravings. Gant then walks readers through a natural process of detoxification and biochemical testing that pinpoints the specific deficiencies that must be addressed to achieve complete recovery.
Gant received his medical degree from the University of Virginia, with residencies in Family Practice and Psychiatry. For over a decade, he has pioneered the practice of orthomolecular medicine in the treatment of substance abuse. He has served as medical director of Tully Hill Hospital, a rehabilitation facility in Syracuse, New York, where he achieved an 83-percent success rate in ending patients addictions.
Lewis received his PhD in English from Kent State University and has been a member of the faculties of Kent State and St. Bonaventure University. For the past twenty years, he has worked as a professional freelance writer.
Authors: Charles Gant, Greg Lewis
Year of Release: 2009