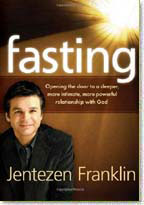 In this New York Times Best-Seller and one of the best available books on the topic, Jentezen Franklin explains the spiritual power of fasting and offers a deeper understanding of God's plan for fasting and the benefits available to those who participate.
The book contains inspiring and practical information that readers need to know in order to access the power of biblical fasting. Those who seek God through fasting can expect tremendous rewards for their personal lives as well as for the church.
Readers will see breakthroughs in many areas such as healing, finances, unhealthy dependencies and family relationships. This book also gives stories of those who have reaped miraculous rewards from this simple act of faith.
According to Franklin, when you fast, your spirit becomes uncluttered by the things of this world and amazingly sensitive to the things of God. Once you've experienced even a glimpse of this and the countless rewards and blessings that follow, it changes your entire perspective.
Jentezen Franklin gives you the keys to experiencing this kind of transformation in Fasting, one of the best and most comprehensive books available on the topic. Discover everything you need to know to unlock the power of biblical fasting, including:
The types of fasts described in the Bible and how to choose which is right for you
The connection between fasting and prayer
The essential components of a successful fast
What to expect physically, mentally, and spiritually
Experience for yourself the deeper, stronger relationship with God that only comes through prayer and fasting.
Jentezen Franklin is senior pastor of Free Chapel in Gainesville, Georgia, a non-denominational church with 9,000 members. He is also founder of the Kingdom Connection Media Ministry, which includes international television and publishing ministries that have served the Christian community for more than 13 years. Kingdom Connection is broadcast internationally on networks like TBN, Daystar, and local broadcast stations in the United States.
Author: Jentezen Franklin
Year of Release: 2007