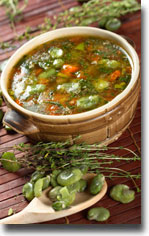 If all you know about fava beans is that Hannibal Lecter favored them with a nice Chianti, it's time to get better acquainted. They're an ancient member of the pea family and have a nutty taste and buttery texture all their own. They do take a bit of work — fava beans have to be shelled, and unless they're extremely small, the individual beans will have an outer skin that needs to be removed as well — but they're deliciously worth it.

Number of servings: 8, 260 calories per serving.
Ingredients
2 pounds shelled fava beans
1 large onion, cut into 1/2-inch dice
2 ribs celery, cut onto 1/2-inch dice
4 large carrot dice
Pinch crushed red pepper flakes
Bragg Liquid Aminos to taste
3 cloves garlic, 2 smashed, 1 reserved whole
4 to 5 cups vegetable stock
Directions:
Bring a large pot of well-salted water to a boil over medium heat and set up a bowl of  ice water.
Add the shelled fava beans to the boiling water. Once the water has come back to a boil, cook the beans for 3 to 4 minutes.
Remove them from the boiling water and immediately put them into the bowl of salted ice water.
Once the beans have cooled completely, strain them from the ice water.
Peel the tough, light green outer layer from the beans.
Coat a large saucepan over medium-high heat Add the onions, carrots and celery. Season with salt, to taste, and a pinch of crushed red pepper. Cook the veggies until they become translucent and are very aromatic.
Add the smashed garlic cloves, stir to coat with the oil and cook for 2 to 3 minutes.
Stir in 2/3 of the reserved fava beans and 4 cups stock.
Taste for seasoning and add salt, if needed.
Bring the stock to a boil, then reduce the heat and simmer until the potatoes are fork tender, about 20 to 30 minutes.
Taste the soup to check the seasoning and reseason, if needed.