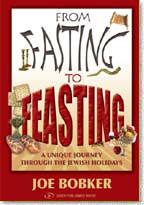 Join Joe Bobker on a fascinating journey through the Jewish festivals. You'll laugh, you'll cry but this roller coaster cyclical ride through Jewish history, holidays, halacha, lore and minhag is worth the trip.
In this extraordinary, insightful analysis of the Jewish calendar, Joe Bobkers refreshingly unique and playful approach of asking questions and searching for answers brings thousand-year-old Jewish festival practices into easy focus. In his examination of each Jewish festival, Joe Bobker utilizes a wealth of knowledge, personal experience and a fiery dedication to the tenets of Yiddishkeit to bring forth this stirringly original work.
Joe Bobker answers the following questions:
Why must Pesach fall in the Spring and Yom Kippur in the autumn?
How many Jewish New Years are there?
Who exactly fixed the Jewish calendar?
Is there a Shavuos connection between Sinai and sina, Hebrew for hate?
Why did Polish Jews break their Tisha bAv fast and throw their holy kinos into the fire?
If Rosh Hashana is a two-day yom tov, why do we call it yoma arichta, one long day?
Why is Tzom Gedalia the only non-obligatory fast day in the Jewish calendar?
Is there a link between Yom Kippur and kappores, the ark covering?Is it true?
The entire Jewish calendar was rearranged to accommodate one ancient custom, willow bashing on Hoshana Rabba?
Why is it necessary to elongate Succos into eight days?
Why is there no specific halachic mitzva, none whatsoever, allocated to Simchas Torah?
What happens to the Jewish festivals when the Messiah arrives?
Why is it called Megillas Esther and not Megillas Mordechai?
Author: Gifty Child
Year of Release: 2011