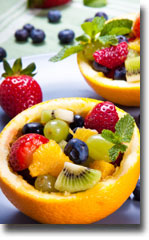 One ancestor of the grapefruit was the Jamaican sweet orange (Citrus sinensis), itself an ancient hybrid of Asian origin; the other was the Indonesian pomelo (C. maxima). One story of the fruit's origins is that a certain "Captain Shaddock" brought pomelo seeds to Jamaica and bred the first fruit.
Serves 4, 210 calories per serving.
Ingredients:

3 limes, squeezed

8 strawberries, cut in half

4 kiwis, peeled and sliced

10 green grapes

20 blueberries
1 grapefruit, sectioned


1/2 cup fresh white grapefruit juice
Directions:

Cut grapefruit in half and remove insides.

Add all ingredients to a large mixing bowl and toss well

Fill each half grapefruit with tossed salad.

Chill for at least ten minutes before serving.