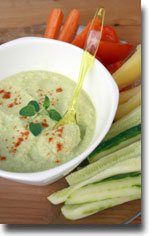 Number of servings: 6, 120 calories per serving.
1 (10 ounce) bag frozen green garbanzo beans
2 tablespoons lemon juice
2 tablespoons tahini
1 clove garlic
1/4 teaspoon fine sea salt
Pinch cayenne pepper
Cook beans according to package instructions. Drain and run under cold water to cool. Place beans, lemon juice, tahini, garlic, salt and cayenne in the bowl of a food processor and process until smooth. Chill until ready to serve.